Bobbie Hicks Top Scholars Endowed Scholarship offers 'peace of mind' for busy undergraduate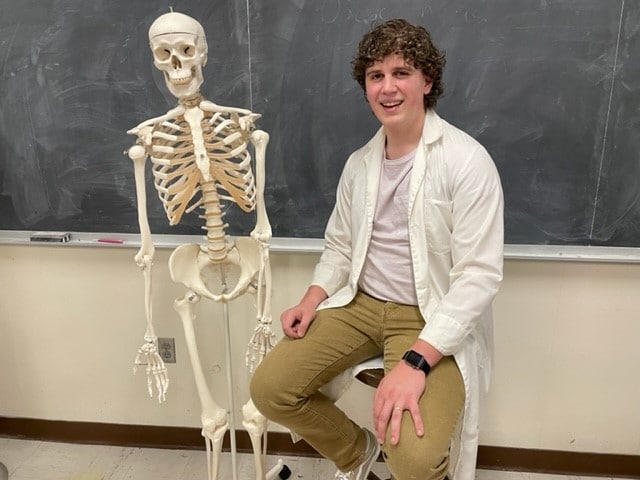 LSU Shreveport feels like home for sophomore Cole Goodman.
"My dad went here in the '90s. My grandpa went here. He got a job a Beaird (Industries) and they paid for him to take some math classes," Goodman said. "I love the student to professor ratio, and I feel like I can ask for anything outside of class. At some places, you have a class with a professor, and that's it. There's no other time to talk to the professor."
Cole, 20, knew as a high school student that he wanted to attend LSUS. He took dual enrollment classes while still in high school and earned the Bobbie Hicks Top Scholars Endowed Scholarship when he enrolled at LSUS full-time.
Two years later, he's carrying a full load of classes. He's a newlywed. He and his wife, Cathleen – a senior at LSUS – are fixing up their new home near campus while juggling classes and work. Cole is a teaching assistant for a freshman biology class on campus. Cathleen works full-time at a church in Shreveport. Goodman says the scholarship helps him handle all those responsibilities and still find time to spend with his family in Frierson south of Shreveport.
"I can only imagine if I had to worry about working more. That would make it a lot harder to do well in school, and I might not be able to take as many classes each semester. It gives me peace of mind."
Cole is majoring in biology with a concentration in cellular and molecular biology. He plans to go to medical school in Shreveport and specialize in pulmonology, anesthesiology or radiology. He got experience working summer jobs at a hospital in Mansfield.
"What's really important to me is work-life balance," Cole says. "I want time to be with my wife and our future children."