Donor support helps the International Lincoln Center open doors for students and provide valuable research resources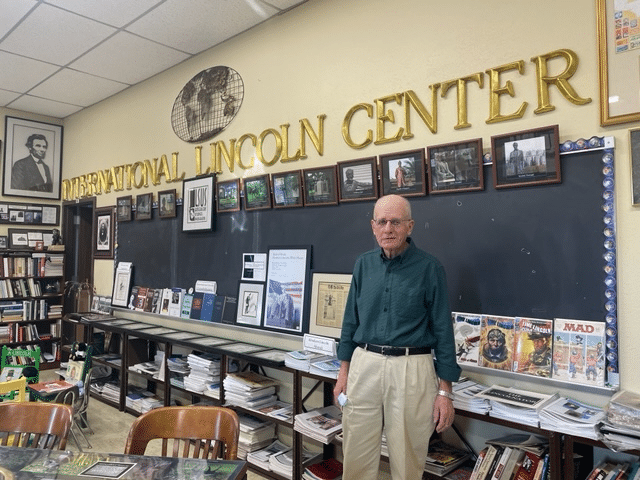 A unique research center focused on President Abraham Lincoln is engaging diverse audiences around the world in spite of the Covid pandemic.
The International Lincoln Center for American Studies at LSU Shreveport – supported by the American Studies Endowed Chair – attracts scholars from around the globe as they study Lincoln's legacy. The center also underwrites local outreach efforts like Law Day lectures.
After the Covid pandemic forced the center to cancel most activities, Director Dr. William Pederson turned to creative outreach efforts. In 2021, the center provided an exhibit of Lincoln-themed stamps and coins to the Ark-La-Tex Stamp and Coin Exposition, which attracted more than 700 visitors.
"Donors have helped it to create a philatelic resource with Lincoln stamps from abroad, as well as Lincoln coins, and a unique collection of original Lincoln paintings of leaders from abroad who have been influenced by the Great Emancipator," Dr. Pederson says.
The center plans to resume in-person events in 2022, including the popular mini Washington Semester, a two-week trip that gives LSUS students access to the inner workings of government in our nation's capital.
"Though the annual Washington Semester had to be cancelled for the last two years, as the oldest such program in the South at a public university and the least expensive in the nation, it continues to receive active interest from students and faculty for the May 2022 program," Dr. Pederson says.
The center also plans to send LSUS students and faculty to international research conferences in 2022 if Covid restrictions are eased.
"These opportunities are important because they just open students' eyes to things you don't know about until you experience them," Dr. Pederson said. "It also makes them more competitive with students from better known universities. We had one student who was accepted to the law school at the College of William & Mary in Virginia because of her participation in the conferences."
The International Lincoln Center evolved from the LSUS Washington Semester program, which was championed by the late Norman and Peggy Kinsey. Peggy Kinsey earned a college degree at LSUS after raising the couple's children, and both Kinseys supported LSUS. In 1994, their generous gift endowed the American Studies Chair that supports the center and Dr. Pederson's work.
In addition to scholarly research materials, the center showcases Lincoln's influence on every corner of the globe. Displays mix photos, original artwork, newspaper articles – even graphic novels and children's books – to share the president's enduring legacy.
"Lincoln is the greatest democrat – that's a small 'd' democrat – in world history," Dr. Pederson says. "He could have become another tyrant, but he didn't."