Dr. Carlos Spaht's passion for STEM education creates a lasting legacy at LSU Shreveport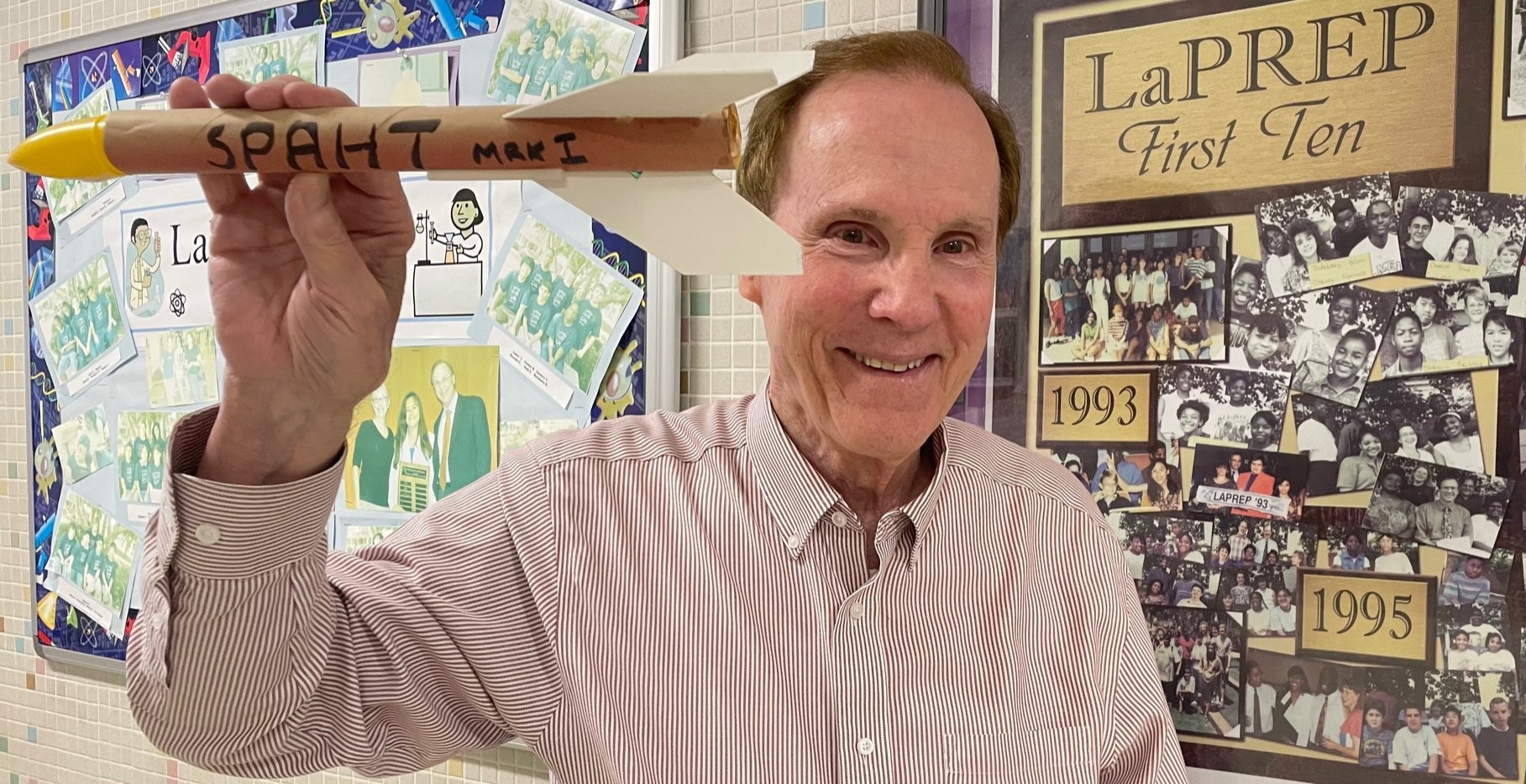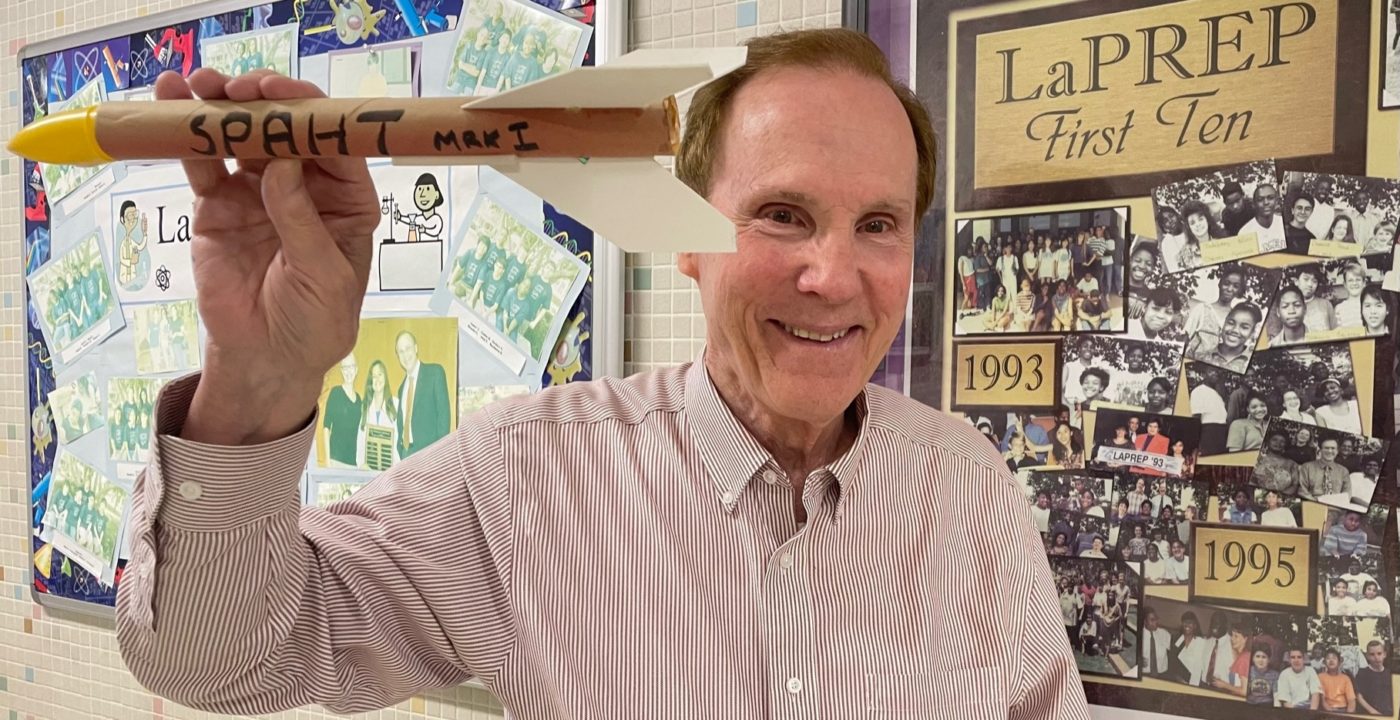 Dr. Carlos Spaht's mission to open doors for minority and female students through the LaPREP program has changed the course of countless lives.
"I was mesmerized by the experience," recalls Rolanda Reliford Clark, who attended LaPREP in the mid-1990s. "The first year, you're just like, 'Oh my gosh, I'm on a college campus.' My first year, I really had to buckle down and study. It really pushed me and helped me be an out of the box thinker."
Dr. Spaht started LaPREP in 1992 to encourage minority and female students to pursue careers in math and science. LaPREP grew from summer enrichment classes to a continuum of programs that prepares youngsters for college and post-graduate studies. LaPREP also provides real-world experience through field trips as well as visits by minority and female math and science professionals.
Clark hoped the program would give her an edge in seeking college scholarships. It did, and she earned a teaching degree at LSU Shreveport. She says the scholarship offered to LaPREP alums and a Pilot scholarship helped her achieve that dream. Clark returned to LaPREP as a program assistant, technical writing instructor and guest speaker during the graduation ceremony for the 20th anniversary of LaPREP. She says she often used her LaPREP foundation while teaching elementary school and now calls on the knowledge as a Senior Implementation Support Specialist for Great Minds, PBC,an education curriculum company.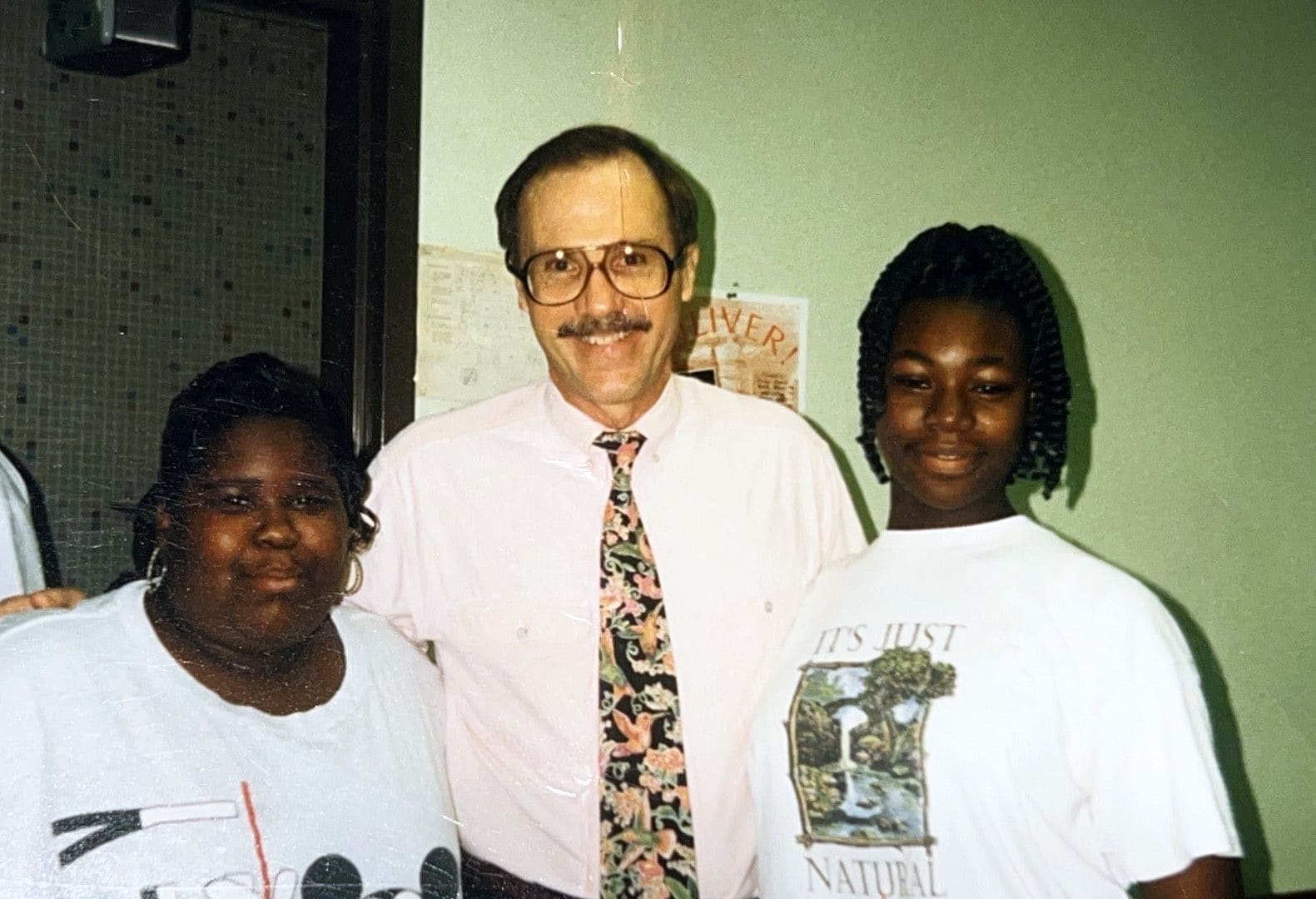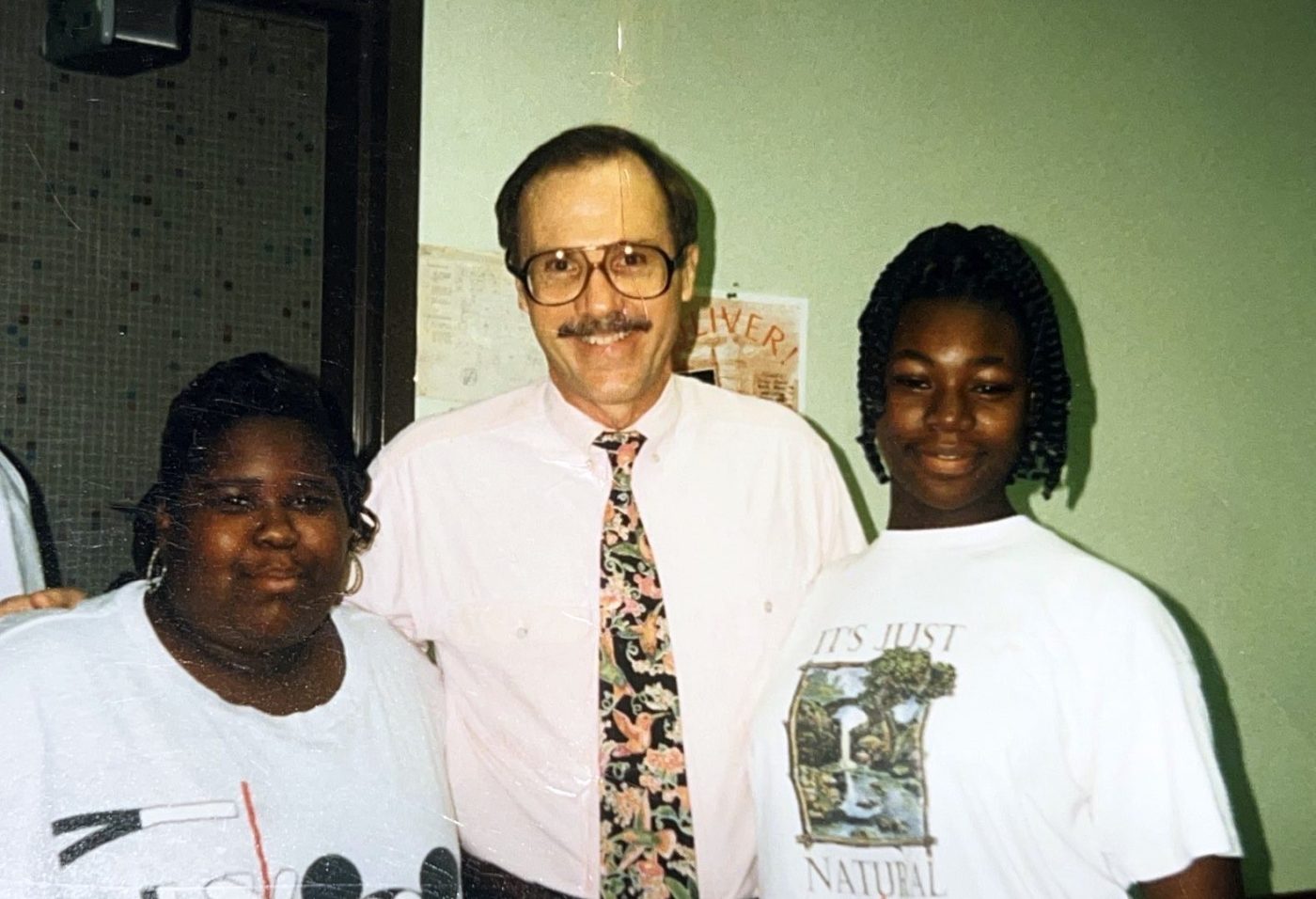 "I teach teachers, administrators, and district leaders how to implement a phenomenon-driven science curriculum called PhD Science," Clark says. "I work with educators all over the country."
As he approaches retirement in June, Dr. Spaht says he's grateful for the students like Clark and the community support that made LaPREP a success. An endowed professorship funded by AEP-SWEPCO supports the program. Contributions from The Community Foundation of Northwest Louisiana and local philanthropists also underwrite LaPREP.
"I kept putting the idea behind LaPREP on the shelf. One day, a teacher came to me and said she wished there was a program like that. She talked about an African-American student in the Gateway program at Caddo Middle Magnet. His name was Tony. He was the top student in his class. "Everybody loved him," Dr. Spaht recalled. "Later, I asked about him, and she said Tony had dropped out, joined a gang and was on drugs. African-American students, particularly males, were being short-changed by education then."
Dr. Spaht grieved for Tony and dedicated himself to providing an opportunity for others like him. He applied for grants. After two unsuccessful tries, he won funding from The Community Foundation and the U.S. Department of Energy.
Dr. Spaht touched the lives of countless students over the years. LaPREP's mission has resonated with the community and generated interest in LSU Shreveport around the nation. Graduates of the program are among its staunchest supporters.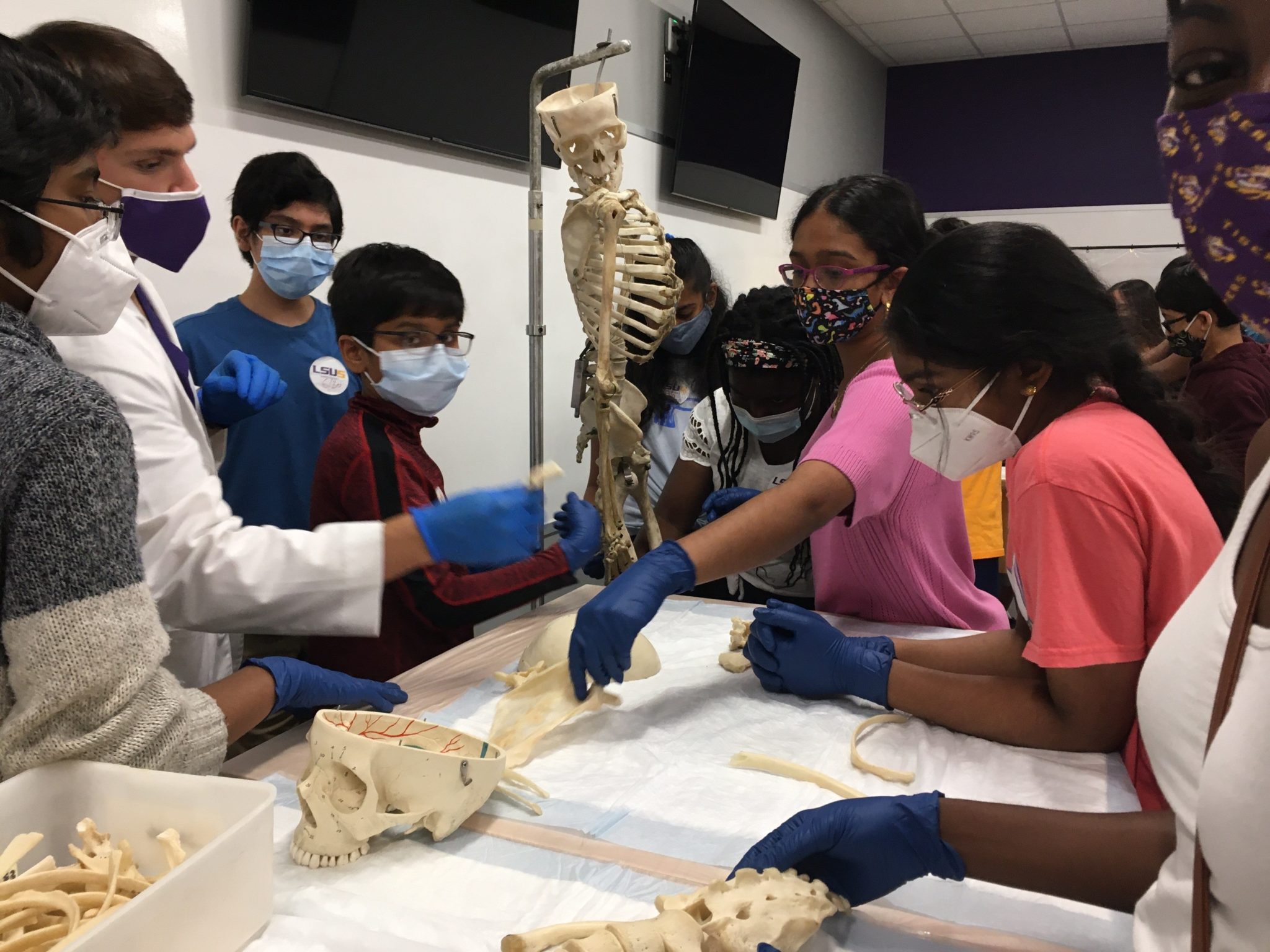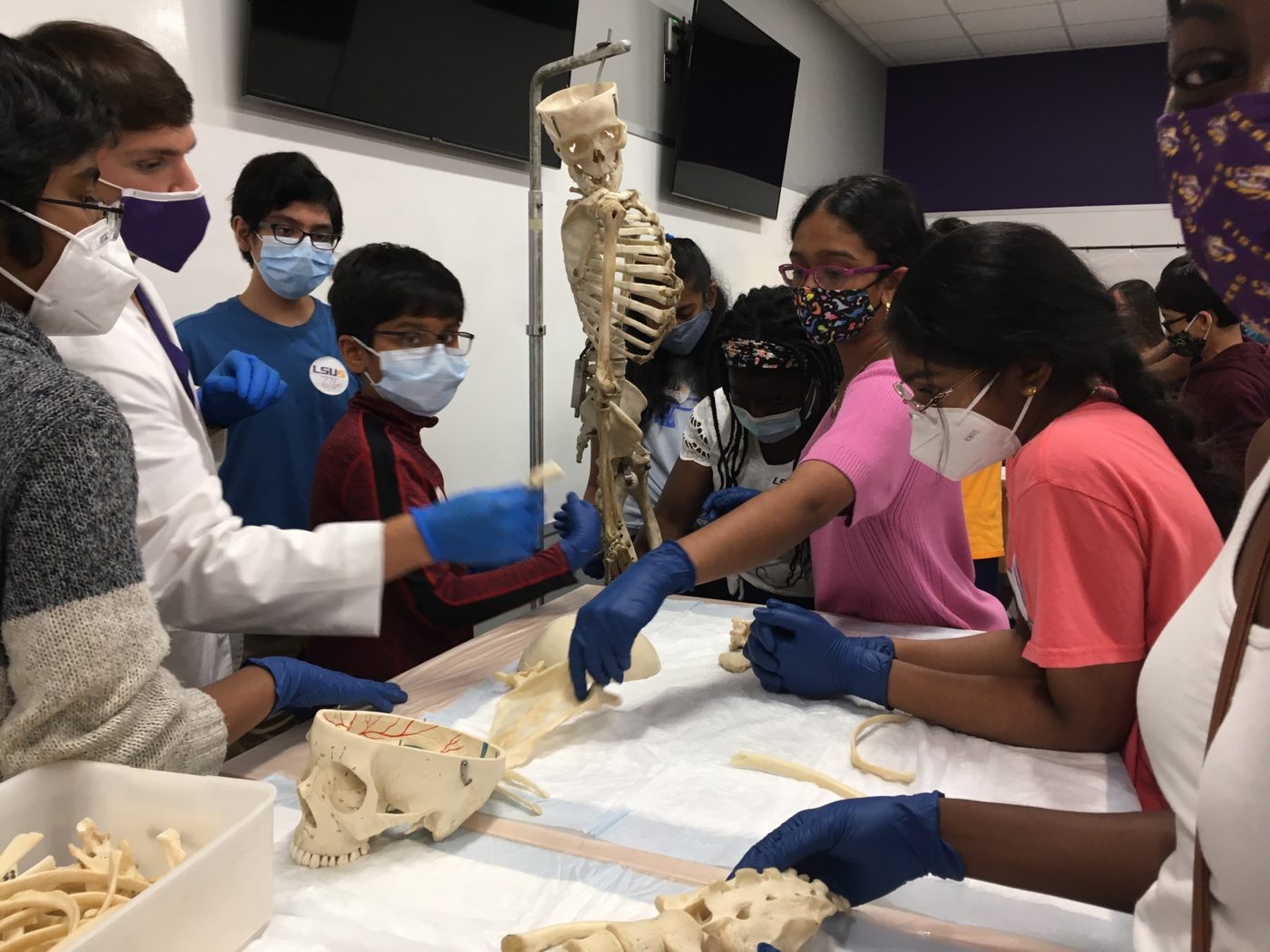 "When people ask me to name someone who truly influenced my life, Dr. Spaht is one of the first people I talk about," says Deidra Lemons Johnson, who attended the program in the mid-1990s. "It's because of the gentleness he carries, the brilliance he has, and the way he can see you for who you are."
Johnson is one of the former students who has returned to encourage others. She visited Shreveport in 2019 to speak at the LaPREP graduation and catch up with Dr. Spaht.
"If Dr. Spaht asks me to do anything, I'll do it," says Johnson. "The program really brought me out of my shell. I felt odd. I liked math and science. I was a bit of a nerd. Dr. Spaht saw that in me and cultivated it."
Johnson ended up in LaPREP because she got in trouble in a middle-school English class. Her teacher – Dr. Spaht's wife – caught her working on math during the class and recommended to Johnson's parents that she attend LaPREP.
"I was going to go to the program whether I wanted to or not," Johnson said, laughing.
From the beginning, Dr. Spaht wanted to challenge youngsters. Professors and instructors, aided by program assistants, cover advanced math and science concepts in the six seven-week summer program. LaPREP students participate in hands-on activities, like building a rocket, to demonstrate some of those concepts.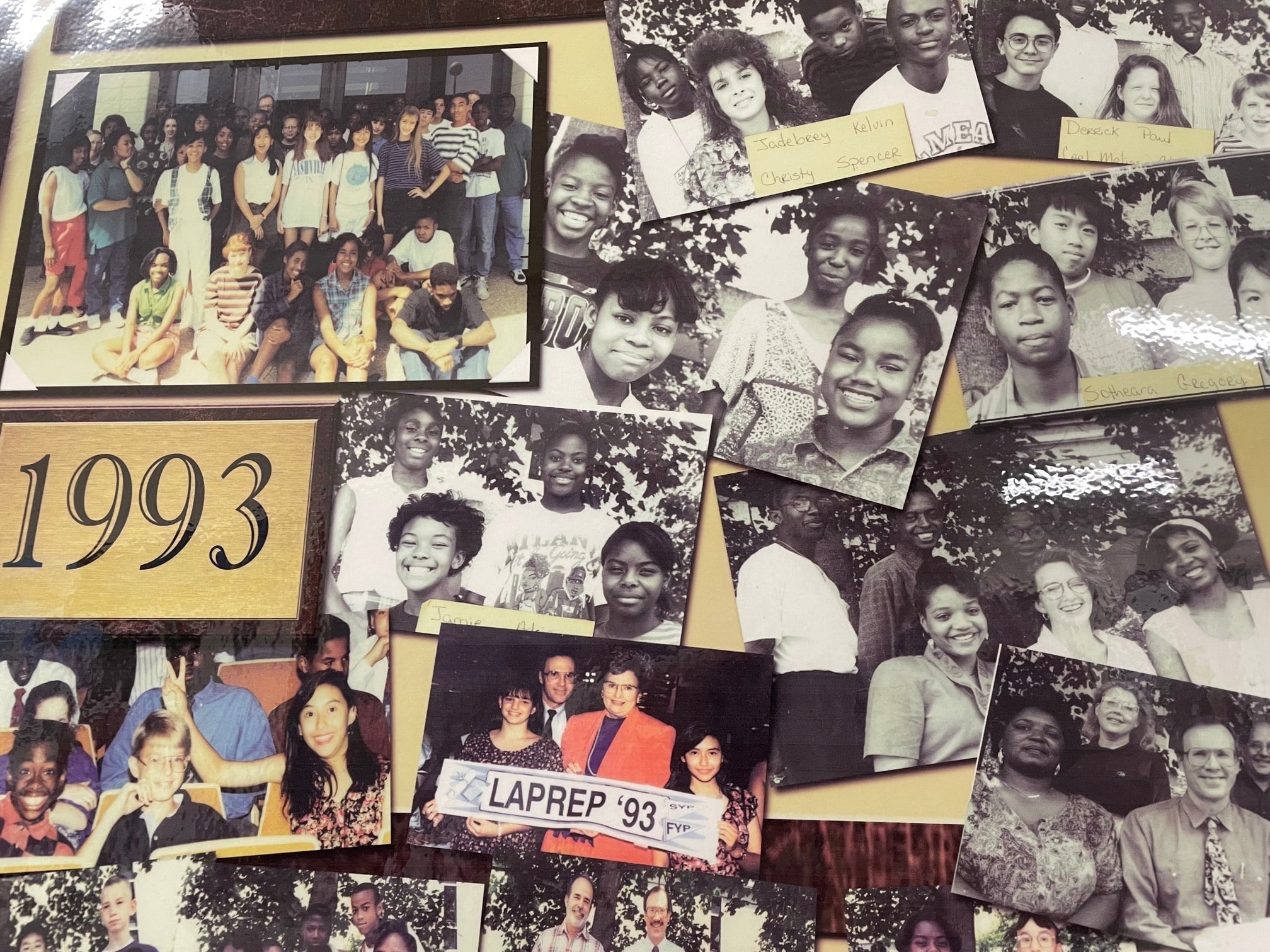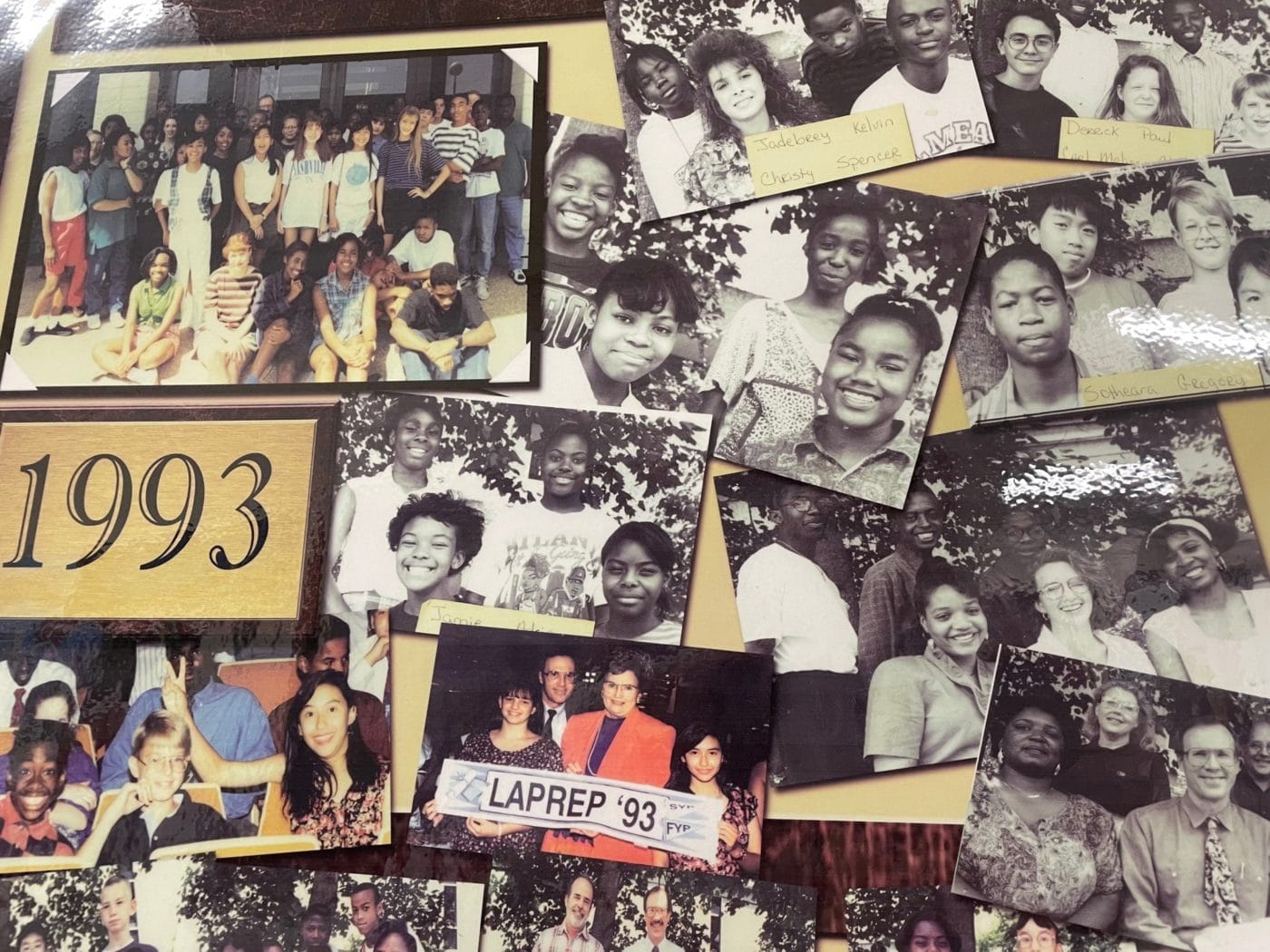 "We always encourage the students and build them up," Dr. Spaht says. "The academics are tough, but they can do it. I teach basically the same logic concepts to LaPREP students as I do to my college students here at LSUS."
Johnson believes the skills she learned at LaPREP provided an academic foundation many students don't build until they're young adults.
"One of the hardest skills is to take something complex and boil it down to something everyone could understand," she says. "You had to think on a topic, go research it, and defend why you believe it. I think that's why it was easy for me to write my master's dissertation in just four weeks. Most people don't learn those skill sets until they're a junior in college."
She says she's used those skills in her career as a journalist, working for the governor of Alabama and now as the Director of Group Operations with the AARP's Communications & Strategy Office of Diversity, Equity & Inclusion in Washington, D.C.
Nearly 900 students have participated in the original LaPREP program for middle school students, and no current or former LaPREP students have dropped out of high school, according to the program's tracking records. All of LaPREPs initial 561 graduates enrolled in college, and about 80 percent of them majored in math or science.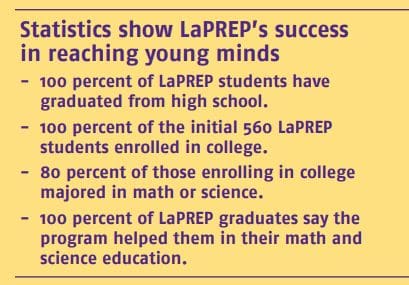 LaPREP's affiliated programs, GetSet for LaPREP and LaPIXEL Academy, have served another 600 students. GetSet for LaPREP offers academic and social encouragement to high-ability, mostly minority students entering fifth and sixth grades. LaPIXEL Academy, offered in conjunction with the LSUS Digital Arts program, teaches students the basic of visual effects software, desktop computer graphics and video game creation.
"My son is really into animation, so he went to LaPIXEL," Clark says. "So of course I had to get a photo of him with Dr. Spaht at graduation. I hope my daughter can go to LaPREP. She's starting sixth grade this fall."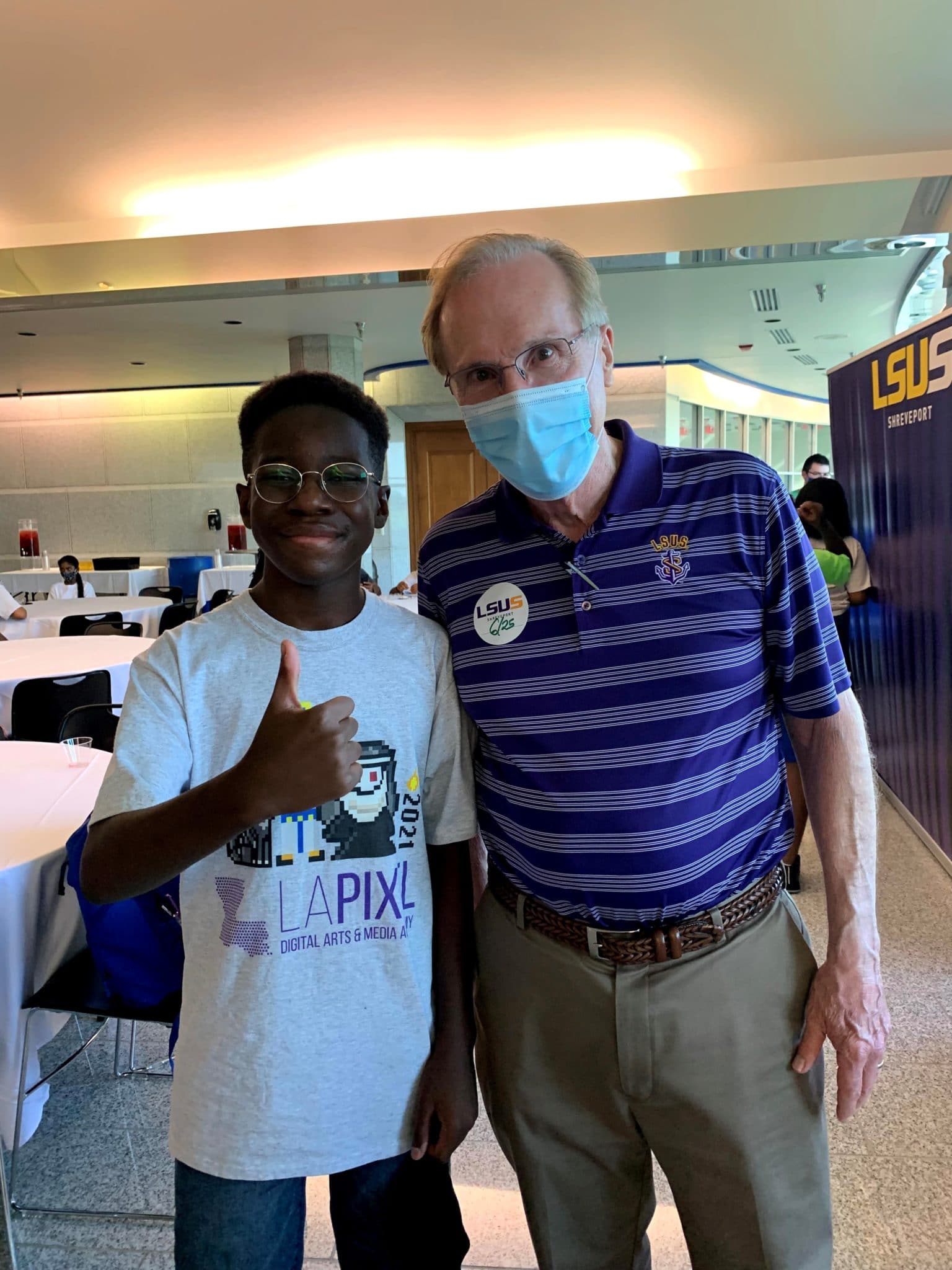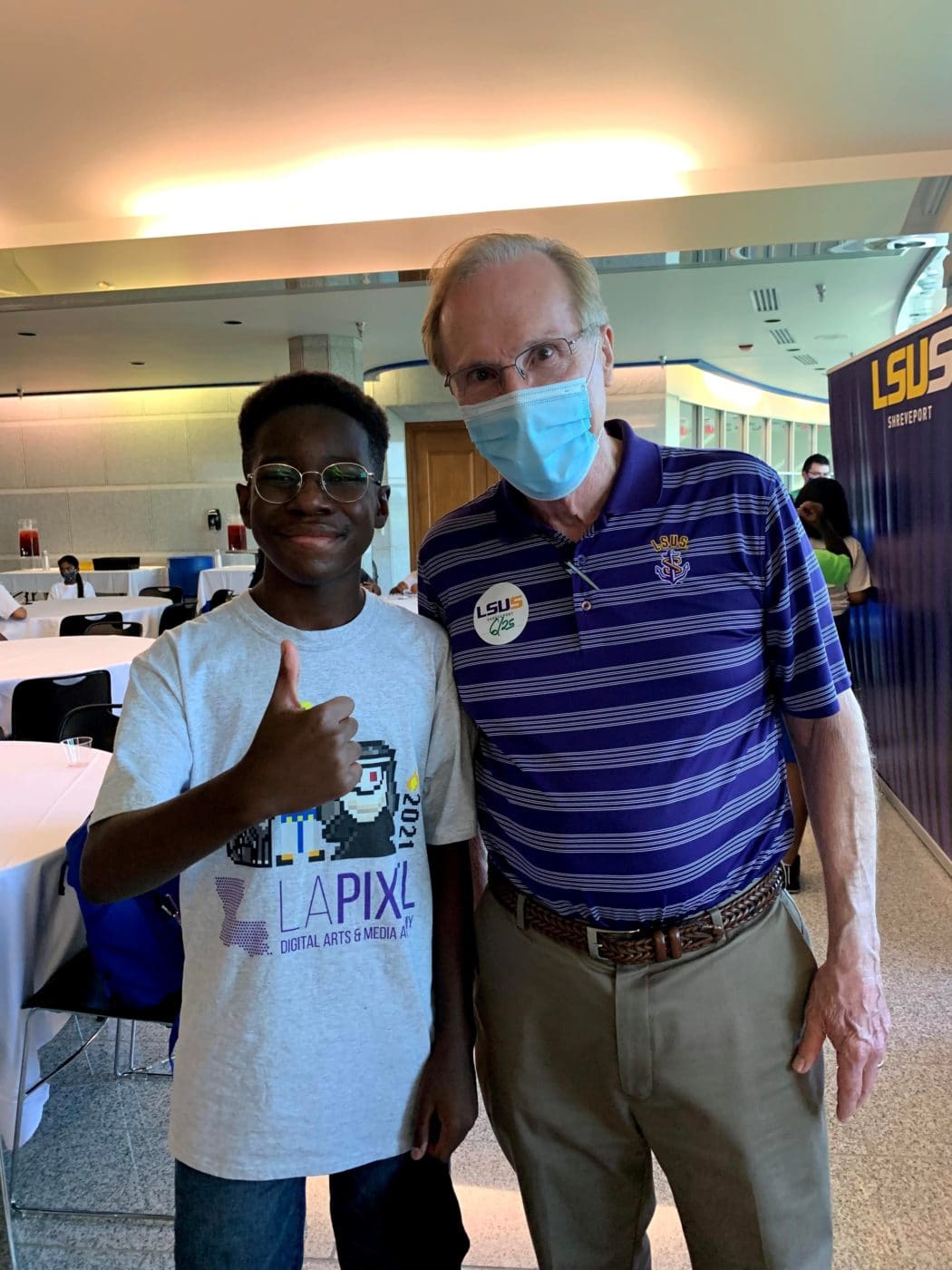 For Clark, LaPREP is as much about relationships as academics.
"One of closest friends went to LaPREP a few years after me when I was a teaching assistant in LaPREP," Clark says. "In fact, we don't call ourselves friends anymore. We call ourselves sisters. And Dr. Spaht is one of my favorite people on earth. In our first year, they had us write about what LaPREP means to us, and he still has my poem hanging on the wall in the first-year classroom."
Dr. Spaht grew up in Baton Rouge and earned bachelor's master's and doctoral degrees from LSU. He entered the Army and rose to the rank of Captain, serving as Operations Research Analyst in support of the Chief of Staff of the Army at the Pentagon in Washington, D.C., from 1970 to 1972.
As he prepared to leave the Army, he was weighing his career options – and turned down a chance at wealth for the teaching job at LSUS.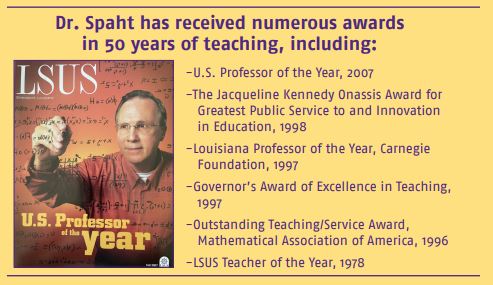 "I had a couple of friends who wanted me to stay in Washington. We were like the three musketeers. One was starting a business," Dr. Spaht recalls. "My friends ended up making millions of dollars in just a few years. I came to LSUS for an interview, and I fell in love with LSUS. Honestly, I would have been unhappy working at that company. I think I was called to be a teacher."