First-generation students create a legacy of learning for their families and communities
"Gratifying." "Proud." "Meaningful."
This are just a few words first-generation college students use to share their feelings about pursuing a degree at LSU Shreveport.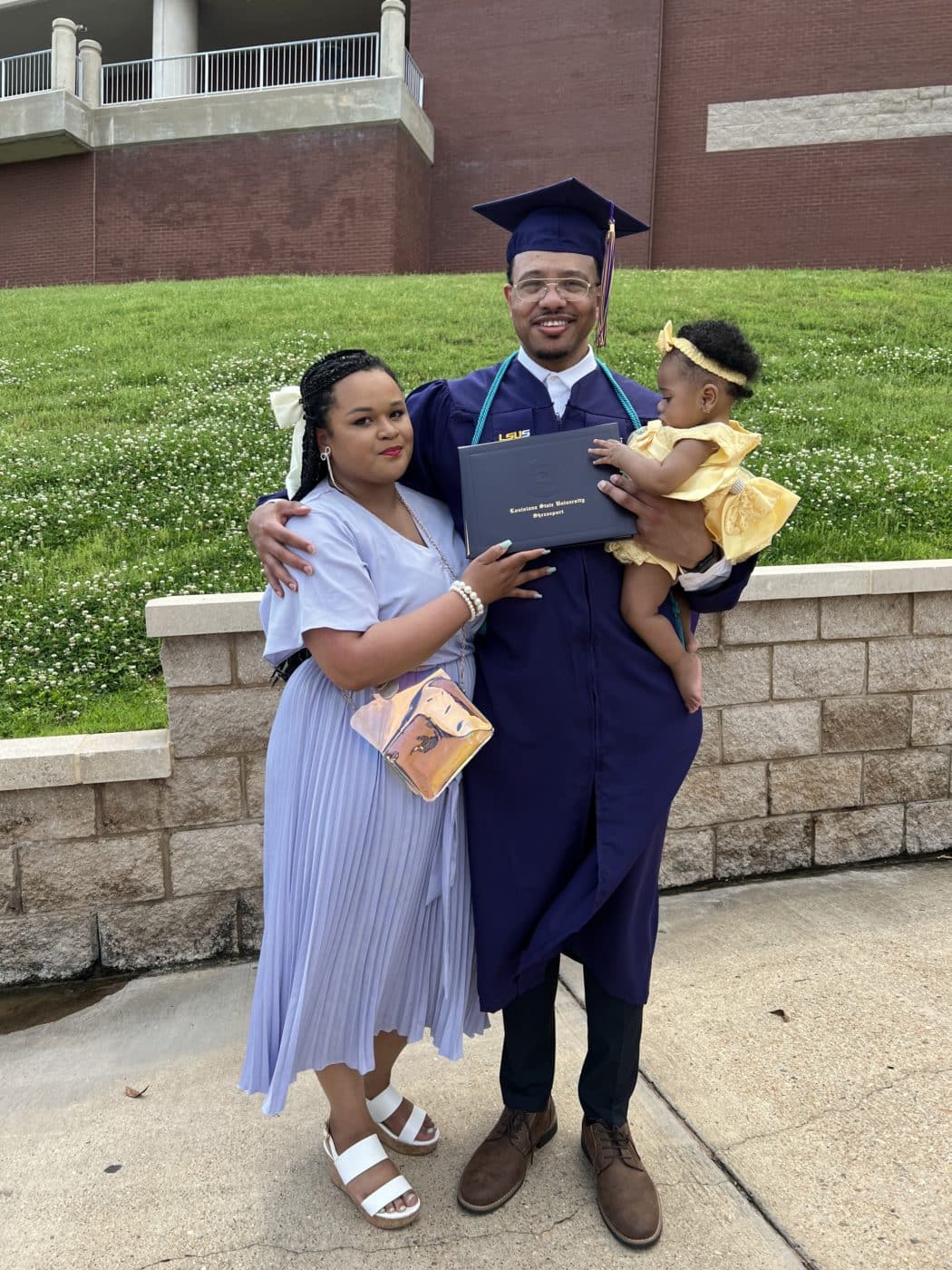 "Being a first generation graduate means everything to me, and I'm so proud to set this example for my family, especially my 8 month old daughter Noelle," said Trandy Jones, who graduated in May with a bachelor's degree in business administration and a certificate in business fundamentals.
"Accomplishing this would not have been achievable without the support of my beautiful wife Ashley. Now we make up a two degree household for our daughter to look up too. With this degree I plan on pursuing a career in finance," Trandy says.
Six of every 10 LSUS students are the first in their families to attend college, and their path to a degree can be daunting. Students whose family members attended or graduated from college can draw on that experience. First-generation students often have to create a support system to navigate the complexities of registration, financial aid and classes.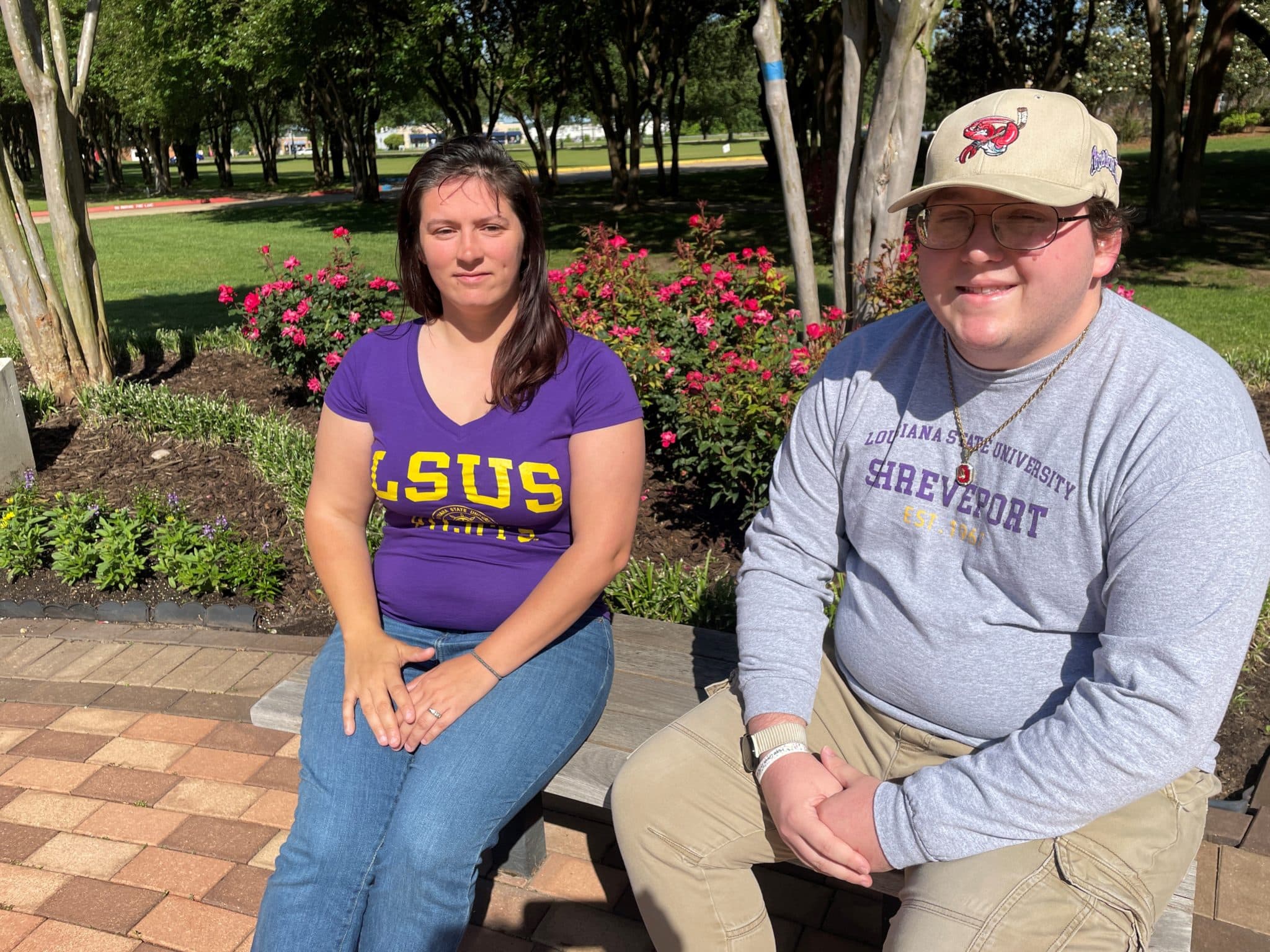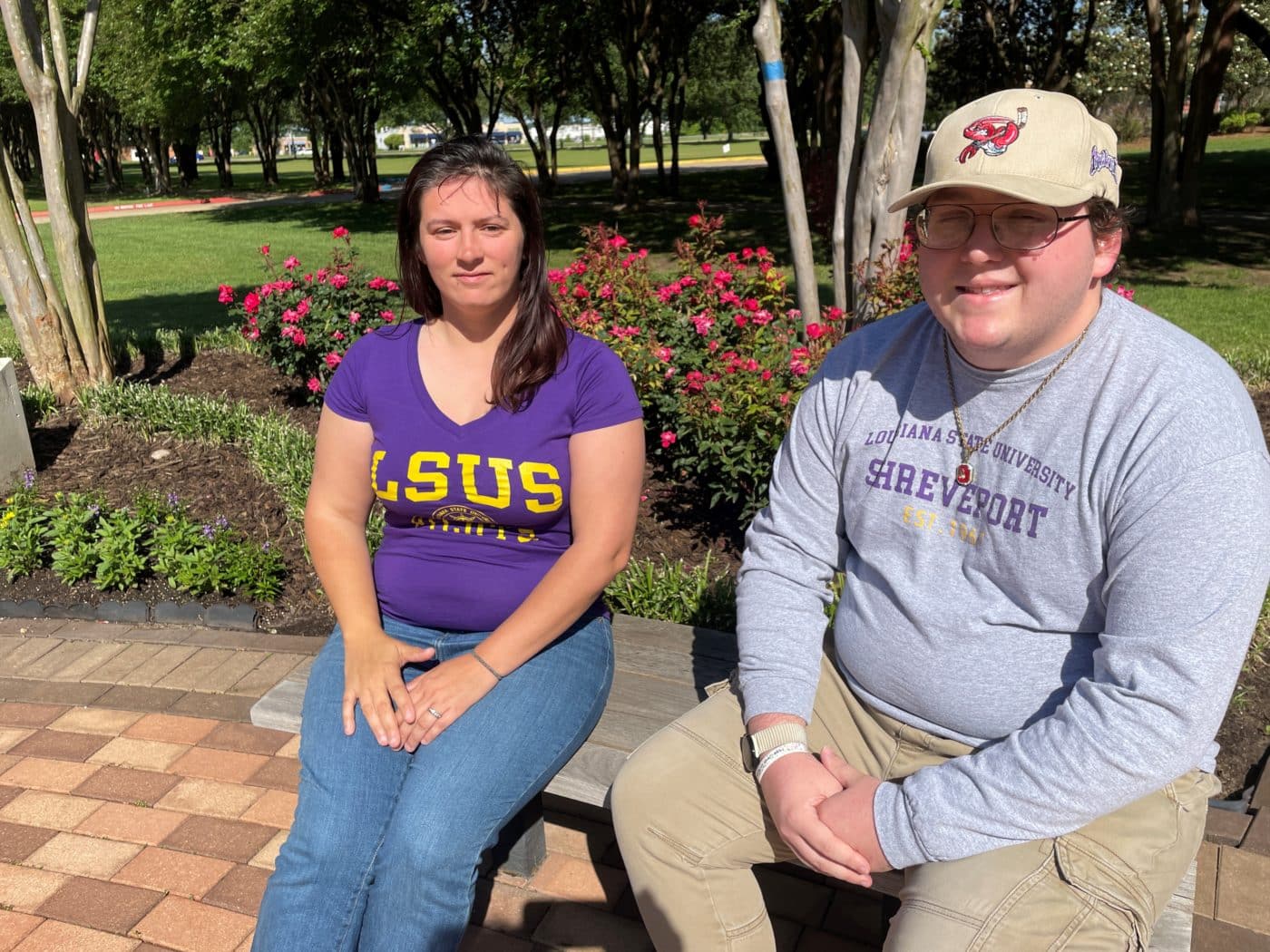 "No one really understood what it was like to go to college for a four-year degree and finish it," says Sky Bates, a sophomore pre-medicine major. "While my family was and still is very supportive of me getting my degree, there are some things they just don't understand because they haven't had to live through them."
Angie Pellerin, LSUS Assistant Vice-Chancellor for Student Success Initiatives, and her team are connecting first generation students to support services on and off campus. She started a peer mentoring program that matches graduate assistants with first-generation undergraduates to remove obstacles in the path to a degree.
"I think it comes down to developing relationships," Angie says.
This year, the graduate assistants, Ryan Bayless and Rachel Pipes, meet with first-generation students one on one to help them stay in class.
"I'm like a tutor but I also help with stuff outside the classroom, things like time management," Ryan says. "I did a lot of that the first semester this year."
Rachel developed close relationships with the students she mentored. She learned to draw them out to uncover their unmet needs – things like a lack of food or transportation – that the university's basic services programs can address.
"A lot of students told me things they wouldn't have told anyone else," Rachel says.
Sky said she's developed an on-campus network since starting her journey to a degree. She first attended LSUS in 2008, then put college on hold to raise her family and work. She returned in 2022, determined to earn bachelor's degree in biology so she can attend medical school.
"Since I am a student in my 30s with three kids, maintaining a work/family/school balance has proven a bit difficult. I've made it a point to dedicate certain times to school, work, and family."
Samari Jacques has also struggled to balance classes and work. At one point in the fall semester, she worked at the Stacks Coffee Shop on campus and at a fast-food restaurant near campus while carrying a full load of classes.
Eight of 10 LSUS students who participated in a recent survey say they work more than 30 hours a week. Students can work only 20 hours a week at on-campus jobs, so many hold at least one other part-time job.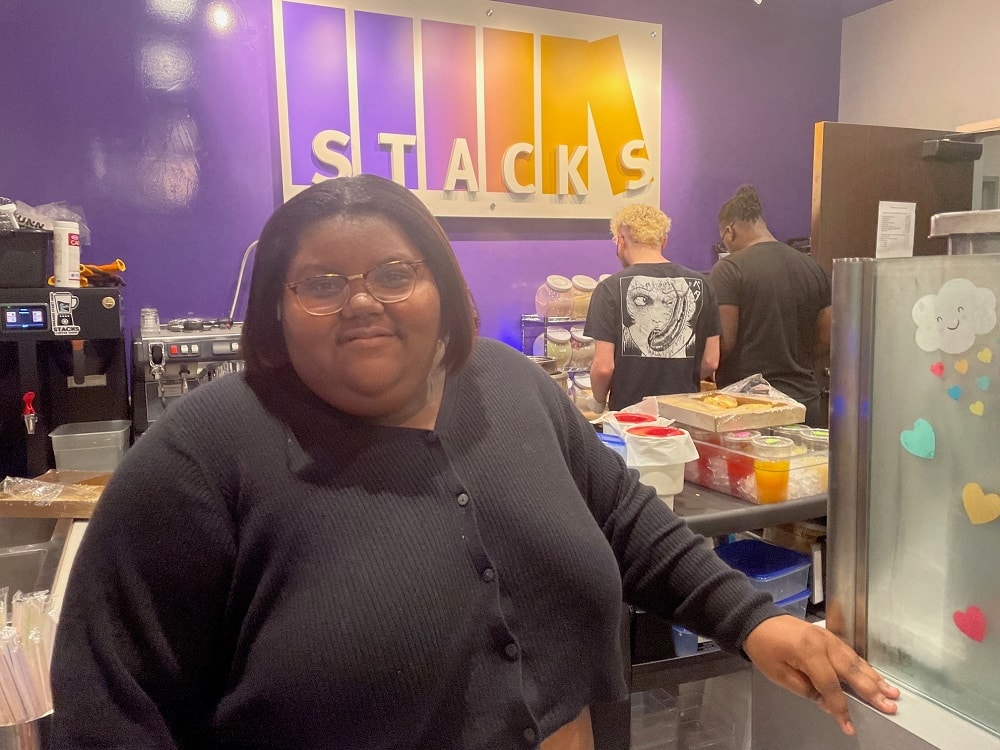 "Honestly, it's difficult. I think it takes some self-discipline to carve out time to do your school work but also make time to have a social life," she says. "What helps is that at Stacks, usually when it's not busy you can work on your school work."
Samari grew up in Connecticut just 30 minutes from New York City. She hoped to go to the University of Connecticut but couldn't afford the cost. She moved to Louisiana to live with her mother and stepfather after her father passed away. She graduated from Parkway High School in 2022.
"UConn is $30,000 for an out-of-state student," she says. "LSUS is affordable."
Samari is majoring in criminal justice and plans to go to law school after earning a bachelor's degree.
"I have thought about becoming a corporate lawyer, but one of my classes now is about juvenile justice, and I'm getting interested in everything that goes on in juvenile court," she says.
Making ends meet while attending college is also a challenge for Joshuah Amato.
"Paying for school was never the problem because I received enough grants and scholarships to cover my classes. However, I have struggled to cover my personal expenses. I have always lived about an hour away from campus so I have a long commute to both class and work," he says. "I also didn't come from a well-off family, since my mom is unemployed due to disability and my step-dad was in a working-class job."
That was challenging enough, but Joshuah and his family faced an even tougher situation.
"My step-father passed away unexpectedly in the middle of my first semester at LSUS. So, I had to take care of and help my grieving mom while also working full-time and having a full-time class schedule. That meant money got really thin for me. I got past those challenges by making some personal sacrifices. I learned to manage my money and started dedicating more time to my work and studies."
But the goal is in sight—Joshuah will graduate in December with a bachelor's degree in psychology. He plans to enter the graduate program in school psychology at LSUS and practice with a focus on applied behavior analysis.
"I definitely hit the bottom, but I stayed true to myself and came back from it, so don't quit. I always told myself, 'Let today be better than yesterday' and 'It's not over until I win.' Now, looking back, I can confidently say I won," Joshuah says.
Angie and her team are celebrating the persistence of students like Sky, Samari and Joshuah. This spring, for the first time, LSUS provided graduation cords to first-generation graduates. In the fall semester, the university observed First-Generation Day to recognize the importance of students who are creating a legacy of education for their families and the community.
"Next year, we want to have a graduation cord ceremony," Angie says.
In the longer term, she wants to be able to offer everything a first-generation student needs to be successful.
"We want to provide more basic services. We're trying to revamp the freshman seminar, so it has more psychological pieces. We want to expand the peer mentor program," Angie said. "We want to give first-generation students the tools to build community, help them explore their interests and develop practical and social skills."
Building a Support System
The LSU Shreveport Office of Student Success Initiatives is taking these steps to support first-generation college students.
2023-2024: Develop a web page focusing on first-generation students, expand outreach and apply to join the NASPA First Scholars Network.
2024-2025: Expand the peer mentor program and become a First Gen Forward Institution through NASPA.
2025-2026: Expand outreach and support services to first-generation students at LSUS and apply to achieve NASPA's First Scholars status.