Hardy Foreman named 2023 LSUS Distinguished Alumnus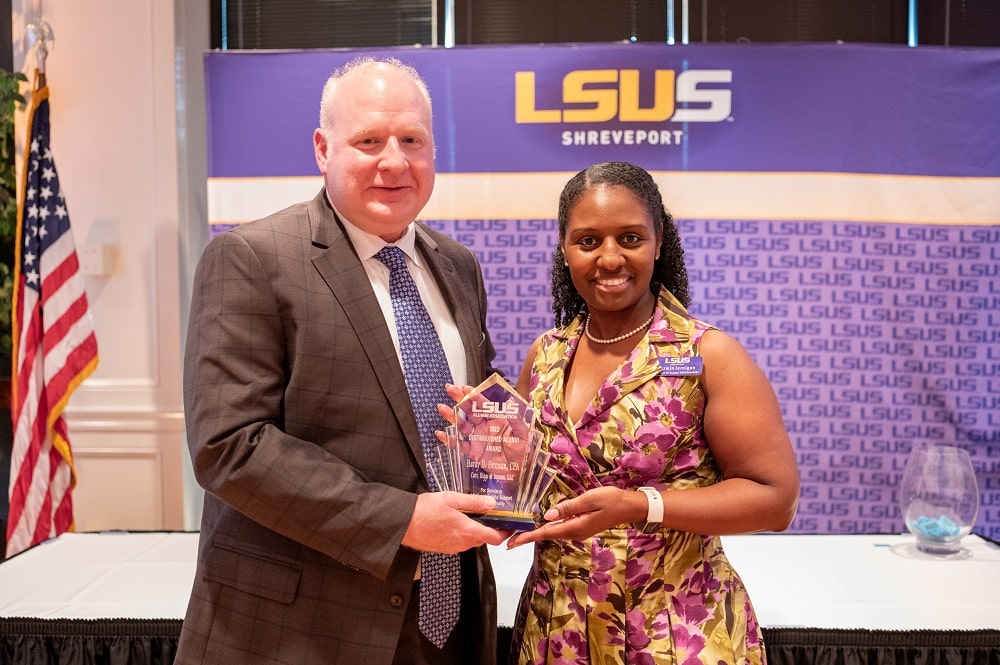 The LSUS Alumni Association has honored Hardy Foreman as the 2023 Distinguished Alumnus. 
Foreman, a partner and certified public accountant at firm Carr, Riggs and Ingram, is known as "Mr. LSUS" for his dedication to the university.
He is president of the LSUS Foundation board of directors. He has also served on the boards of Red River Radio, the LSUS Alumni Association, the LSUS College of Business and Bossier Parish Community College among others. 
"That's what this is about – service over self," Foreman told awards banquet attendees in the LSUS Ballroom. "This university has given me so much, and there's no way I can repay it for everything I've received, but I've tried in every way I can."
A native of Sabine Parish, Foreman commuted to LSUS while pursuing an undergraduate degree. He also took graduate classes in business while working full-time before he earned his CPA credential.
On top of Foreman's service in a number of LSUS organizations, perhaps his greatest contribution is the opportunity he's given to fellow LSUS alumni. 
"He's hired or given internships to more than 60 LSUS graduates," said LSUS Chancellor Larry Clark. "There's probably few if any alumni who could match him for the total number he's been involved with hiring.
"How many alumni owe him thanks for helping position them for a career or employing them outright? His willingness to accept leadership roles because of his love and dedication to LSUS is remarkable … and he does it because of a genuine belief in the mission and work of LSUS."