LSUS freshman earns so she can learn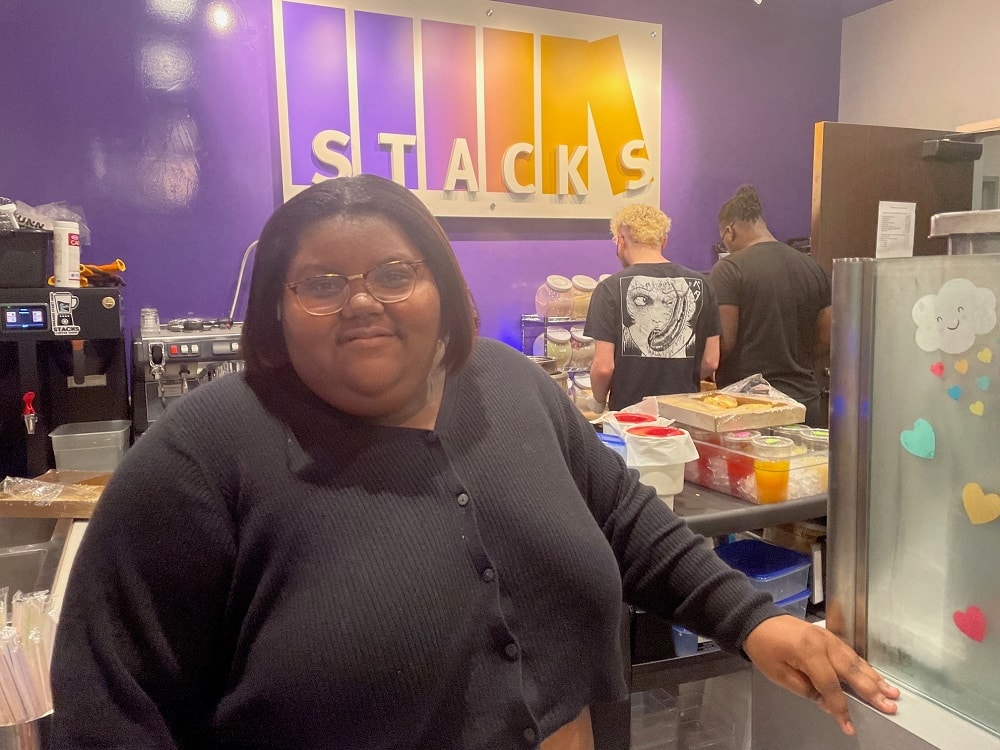 LSU Shreveport freshman Samari Jacques juggled two part-time jobs and still made it to class in her first semester of college.
Eight of 10 LSUS students interviewed for a student intern survey say they work more than 30 hours a week, says Angie Pellerin, LSUS assistant vice-chancellor for student success initiatives. Students can work only 20 hours a week at on-campus jobs, so many hold at least one other part-time job.
Any unexpected expense can rob students like Samari of a degree. It's Giving Day 2023 — and we need YOUR help to keep LSUS students on track to graduation. The LSU Shreveport Student Emergency Fund, the LSU Shreveport Scholarship and Completion Fund and the Pilot Pride College Experience Fund help cover students' urgent needs and the extra costs over and above tuition.
Samari works at the Stacks coffee shop on campus. She needed extra money last semester so she also picked up shifts at a fast-food restaurant near campus.
"I was working at Chipotle down the street," she says. "I was getting off at 10 or 11 at night from Chipotle and would have to be up in the morning to be at Stacks at 8:30 on campus."
Samari decided to work only at Stacks this semester so she could focus on classes. She plans to work over the summer to save money for her sophomore year.
"Honestly, it's difficult. I think it takes some self-discipline to carve out time to do your school work but also make time to have a social life," she says. "What helps is that at Stacks, usually when it's not busy you can work on your school work."
Samari grew up in Connecticut just 30 minutes from New York City. She hoped to go to the University of Connecticut but couldn't afford the cost. She moved to Louisiana to live with her mother and stepfather after her father passed away. She graduated from Parkway High School in 2022.
"UConn is $30,000 for an out-of-state student," she says. "LSUS is affordable, plus my mom went to LSUS and my dad went to LSU."
Samari is majoring in criminal justice and plans to go to law school after earning a bachelor's degree.
"I have thought about becoming a corporate lawyer, but one of my classes now is about juvenile justice, and I'm getting interested in everything that goes on in juvenile court," she says.